The Christian Research Institute and Roman Catholicism
The sad and dangerous failure of CRI to expose Roman Catholicism as heretical thus fueling the ecumenical fires
Three part essay available for free PDF download
Click Here
READY REFERENCE GUIDE TO ROMAN CATHOLIC RELIGIOUS PRACTICES AVAILABLE FOR FREE IN PDF FORMAT
Ready Reference: Confession to a Priest
Ready Reference #2: Are Good Works Necessary for Salvation?
FREE PDF DOWNLOAD

I am a Christian. Perhaps You are Not. So, Is This a Big Deal?
I am a Christian. You are a Roman Catholic. So, What is the big Deal?
Update: We are delighted to have available the very excellent video series produced by Reformed Apologetics Ministries. This in-depth video presentation is a very good tool for research and analysis. Each topic moves along in well-paced details exposing the eternal differences between biblical Christianity and the Roman Catholic religion. To view this 6 part series right now please click the "watch videos" block on the left side panel of this home page and then scroll down to Reformed Answers on the Roman Corruption of Christianity.

A new debate is available on the perpetual virginity of Mary: WAS MARY A PERPETUAL VIRGIN?

A new article has been published: What To Do With Works In Romans Two?

Visit Take Heed Ministries to view a debate between Roman Catholic priest Patrick McCafferty and Rob Zins on The Eucharist.
CWRC is dedicated to a Christian witness to those involved in the Roman Catholic religion while maintaining a firm witness to the errors of Rome. To this end, CWRC has written, debated, and produced theological information designed to help Christians witness to Catholics and better understand the intricacies of Romish theology. The goal of the ministry is three-fold.
1.We wish to stand for the truth of salvation by faith alone, through free and sovereign grace alone, by the finished work of Christ alone. In standing for this truth we must compare the glorious gospel of Jesus Christ with the gospel of Rome. This entails a formal apologetic agenda in which the errors of Rome are exposed and refuted.
2.In a loving manner, we wish to introduce the God fearing, Bible respecting, religious Roman Catholic to the magnificent gospel of Jesus Christ.
3.We wish to strengthen the individual Christian as well as the Church by educating through conferences, symposiums and written materials.
CWRC, A Christian Witness To Roman Catholicism, is a 501-C-3 entity working under the auspices of Reformed Bible Church of North Clarendon, Vermont, along with the guided care of an independent advisory board. There are also several Christian men who serve as consultants and as contributors to this ministry.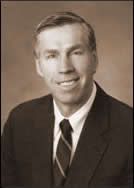 Ministry Director
Robert Michael Zins
1971 -
B.A. Alma College, Alma, Michigan
Major: Political Science
1975 -
M.E.D. Springfield College, Springfield, Mass
Major: College Administration and Personnel
1981 -
Th.M. Dallas Theological Seminary, Dallas, Texas
Major: Historical Theology
As a student at Dallas Seminary, Rob was active in the Fellowship of Christian Athletes, Young Life Ministries, and helped to plant a Bible Church in Kaufman, Texas. Upon graduation, he ministered as a teacher at Highland Park Presbyterian Church in Dallas. Rob also served as pastor/teacher at Sovereign Grace Fellowship in Richardson, Texas. It was during this time that he heard the "New England" cry and moved to Vermont to begin a church planting ministry. Rob settled into the ministry of pastor/teacher in Vermont for 19 years. During this time, he began the ministry of CWRC. Rob and his wife Nancy now reside in Charlotte, N.C. where Rob devotes his time to writing, researching and traveling on behalf of the ministry of CWRC- A Christian Witness to Roman Catholicism.

In 1991 he began working closely with Christians Evangelizing Catholics, giving conferences on Roman Catholicism throughout the United States and Great Britain. He has debated many Roman Catholic authorities, including priests and apologists. In July of 1994, he founded A Christian Witness To Roman Catholicism (CWRC). This ministry has produced a number of video and audio tapes, along with position papers, pamphlets, and books on the Roman Catholic Religion. Rob spends a great deal of his time giving conferences and talks on Romanism.